Product Description
- Using automotive-grade HKL3 module light source,Adopting the technology of TFFC, no gold wire,
improved chip performance in high current, high temperature;
- HKL3 module light source light-emitting area is 6.3mm x 2mm, provides unprecedented consistency
of colour temperature, brightness and luminous flux density. Smaller beam angles, Higher luminous
efficiency. Ideal choice for automobile lighting source;
- The bulb has internal driver, with built-in canbus, can pass the car computer inspection and solve blinking issue;
- Using BMW specific car adapter to solve installation issue.;
- Standard light shadow design, can change the adapter's angle to meet different assembly install
demand, get the best pattern beam;
- Install car model : BMW 318i/E65/E90.
| | | | |
| --- | --- | --- | --- |
| Item | bmw e46 canbus headlight h7 | Power | 20W |
| Lumens | cold state 2200lm, hot state 1800lm | Chips | HKL3 |
| Voltage | DC 9V-16V | Current | 1.5A/13.5V |
| Color Temp | 6000-6500K | Application Temp | -45℃~+85℃ |
| Real lifespan | >10,000 hours | Usage | BMW 318i/E65/E90 |
---
Original halogen bulb situation:
As you can see E46 headlight assembly, there

are 2 halogen bulbs in one assembly one is for

Hi beam, another one is for low beam.
After our deeply study, we learn that there are some different of this 2 bubls, here you can check:
#1. the pin connection of this 2 bulbs

are different. (Low beam with 1 pin, Hi beam

with 2 pins to connect the correct position)
#2. This 2 bulbs lighting angle are different. Hi beam is 90° left and right lighting, Low beam is 45° ligthing.
In order to make LEDs headlight most suitable for E46 Assembly,we make E46 headlight bulb to
demand both Hi beam and lo beam, could install to E46 Assembly prefectly. Following is the advantages: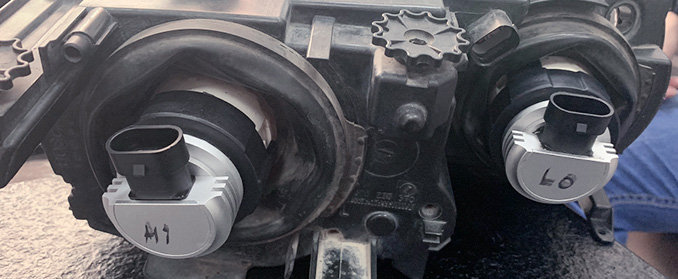 1. About the lighting angle of this 2 leds headlights,

we all make them in 90° left and right lighting

2. This E46 headlights is no polarity;

3. Bulit- In Canbus;

4. Much brighter than original holagen bulbs
About new led lights installation details:
For our development , we add rubber rings inside the headlight to reach 360 degree rotation,
1 set headlight bulb can solve Hi beam and lo beam issue.
Install the bulb to the headlight assembly, find the corretct position to fix the adapter, rotate the
bulbs bottom body to get the angle you like.
Item
BMW 3 series 98y-04y changed H7 (Suitable your E46 assembly ) And
BMW318i/E65/E90/BMW 3 series 98y-04y/BMW 320-2006year
Install Manual
Correct installation need to check the led upgrade
lighting chip position facing left and right, this direction
can achieve the best lighting beam.

There is a location point in the light assembly (Red
arrow), led upgrade lighting have the same matching
location point. Only when this 2 location match correctly,
can led upgrade lighting install in the light assembly
with better fixed.

There are 2 black fixed ring on the led bulbs(Red arrow),
Matching with the light assembly 2 adapter fixed rings
install correct position(Red arrow), and rotate around
30°clockwise, the bulbs could be installed and fixed well.

This led bulbs can adjust led chip lighting angle,
coordinate with different light house to achieve the best
lighting pattern beam. When adjusting angle, need to
loosen the screw (Red arrow), remove to the best spot
lighting position the light house need (Left & Right
lighting is the best) Finally, tighten the screw.